Music
We live in a world where Music is everywhere. Music is there in the car when you drive, in your headphones as you walk to school, and is infinitely linked to all the special moments in your life. Music opens doors to different culture, societies and thought processes and helps students to appreciate and celebrate difference. Through studying music pupils learn to understand the elements that create the music they listen to and begin the process of using them to find their own creative voice.
Music is a subject which opens doors to skills that young people never knew they had. It helps them to listen more carefully, work collaboratively and independently, and to practice a skill for a specific and concentrated amount of time. It also opens their eyes to what has gone before and this turn helps them to appreciate something new. More than this, it takes people out of their perceived comfort zone and challenges them to explore something they have never tried before.
Through Music lessons at the Nottingham Academy we aim to:
Give pupils the opportunity to try something new in a safe environment.
Develop our pupils' knowledge and understanding of music so they can go and be more creative in the future.
Ensure our pupils appreciate and understand the different environments, societies and cultures of the world through the study and performance of world music.
Offer every child the chance to learn a musical instrument at no cost.
Extra Curricular Opportunities:
Students can participate in two choirs on each site (Year 7 choir and Senior Choir) and in the Band.
Lunchtime GCSE revision lessons in preparation for the listening examination.
Instrumental lessons are available on all sites, after school, offering tuition on:

Violin, Cello, Piano, Singing, Trumpet, Trombone, Guitar, Drums, Clarinet, Saxophone and Flute.
(instruments are loaned free of charge for lessons, subject to availability).
Key Stage 3
At Key Stage Three, the music department introduces a wide range of genres designed to engage and challenge our pupils. Together, they give the pupils a well-rounded appreciation and understanding of Music, creating the building blocks that enable them to access GCSE successfully.

All of these topics are delivered to develop the three key skills of music and enable pupils to be both creative and engaged:
- Performance (on a variety of different instruments)
- Listening (to a wide range of music across many genres, styles and countries
- Composition (in a wide variety of styles).
Key Stage 4
At the Academy, we study the EDEXCEL GCSE syllabus. Like our Key Stage 3 programme, this is split into the three key stills of Music: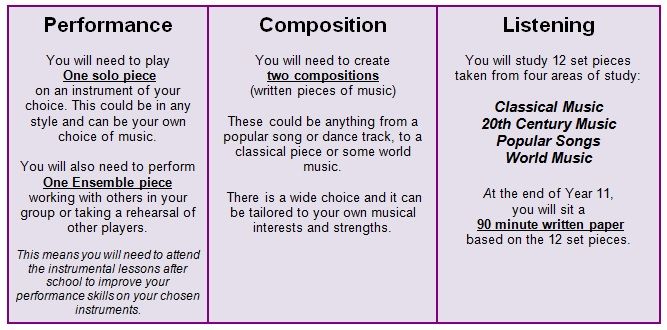 If you enjoy composing and performing music, learning an instrument or singing and learning about all types of music, including classical, popular and world, then this GCSE Music course is the ideal subject for you. Above all it should create an understanding and appreciation of how music is created and put together, allowing pupils to go on and study music at a higher level in the future.
Key Stage 5
At the Nottingham Academy, we study the EDEXCEL Level 3 BTEC Music Diploma over two years. We alternate between a Performance Year and a Composition Year. Each Year results in a Level 3 BTEC Subsidiary Diploma in Music.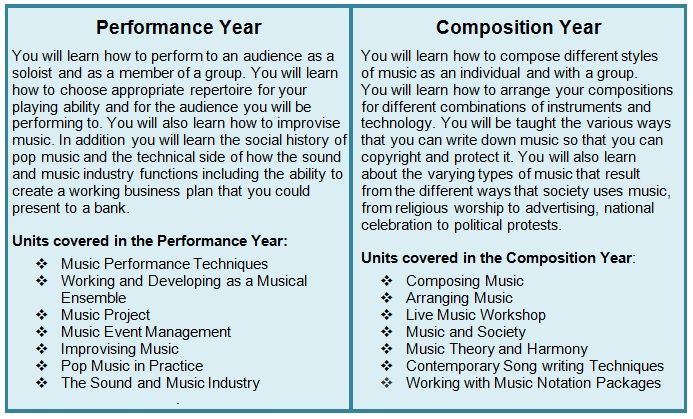 Level 3 BTEC Music Diploma teaches a huge number of transferable skills for the future. Students need to be both an independent learner and someone who can work as part of a group. They have to be both creative and organised. They will develop their imagination and business understanding.
There are three compulsory units: Music and Society; Music Project (which will be a concert); The Sound and Music Industry. Students must then choose nine units from a choice of eleven that will develop and enhance their practical, organisational and compositional skills and the technical understanding of music and performance.