Wellbeing & Self-Care

Evidence suggests there are 5 steps you can take to improve your mental health and wellbeing. Trying these things could help you feel more positive and able to get the most out of life.
Connect with other people
Be Physically Active
Learn New Skills
Give to Others
Pay Attention to the present moment (mindfulness)
Check out the Assembly below!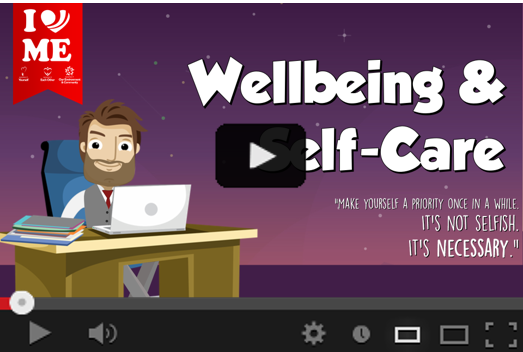 Follow-up Resource- 'I Love Me' Activity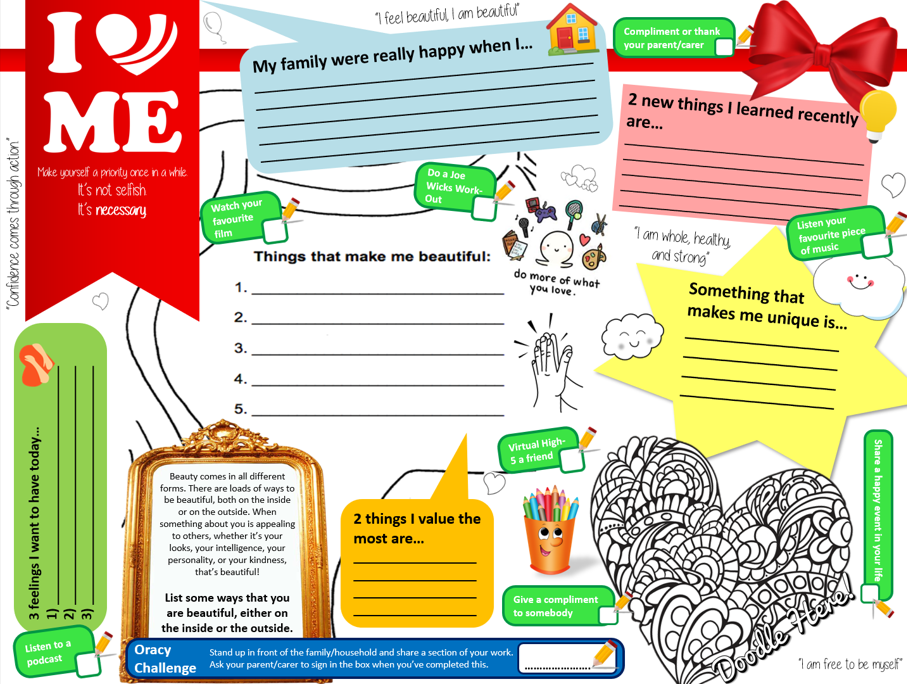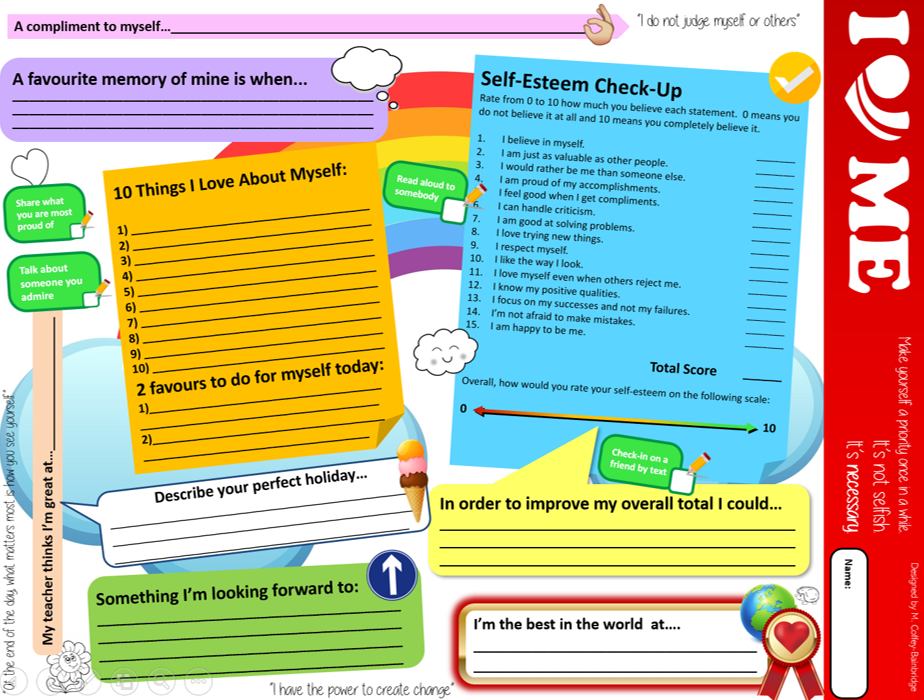 It's OK to worry about Coronavirus
Relaxing and mindfulness with ICT
We can use ICT to communicate, plan, design and code… among many other amazing things! However, all too often we forget, that we can actually use our smart devices to relax and unwind. Check out some of these amazing apps below that you can download to your smart devices…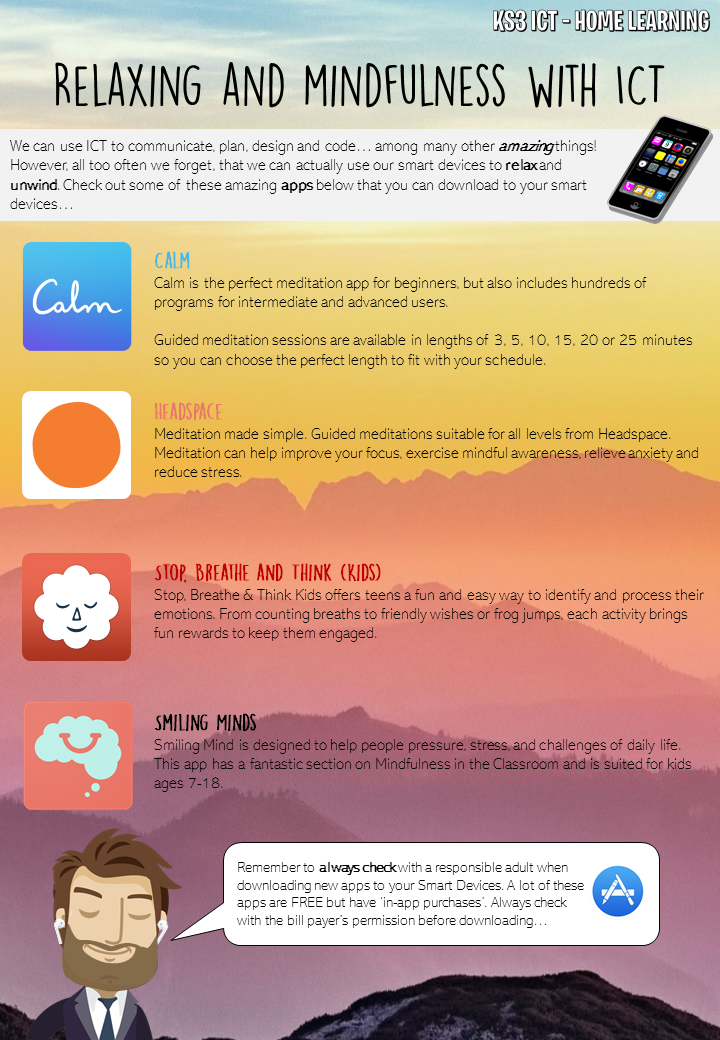 We all have Mental Health
We All Have Mental Health is an animation designed to give young people aged 11-14 a common language and understanding of what we mean by mental health and how we can look after it. It has been created for young people in Key stage 3 and can be used with accompanying teaching resources.
Managing Stress- Brainsmart BBC
Stress is all too natural. But here are some tips for keeping it under control.
Brainsmart website: http://www.bbc.co.uk/scotland/brainsmart/
Sleep: A Bedtime Story
This is a #bedtime ritual you may follow every night, if you wish. It walks you through preparing for #sleep. This video will give you tips on how to calm down before bedtime and hopefully relax your mind and get you into a sleepy groove!
It's best to view this on a tablet or mobile phone that you can put aside easily. You may stop and start the video at any time. In case you fall asleep, keep the volume low and turn autoplay to off.
This video is provided for general information only. It does not replace a diagnosis or medical advice from a healthcare professional.
Resilience but what is it? Here's 5 ways to build resilience
We all face challenges and we all find ways to overcome them. Resilience is ordinary not extraordinary. We all have it to larger or smaller degrees. We want to help build awareness of this and support young peoples capacity to do positive and realistic things to support themselves. So push yourself, set new goals, overcome a hurdle. #ThisIsResilience
'Just Breathe'
"Just Breathe" features kids speaking candidly about anger and how they cope - something for all ages to ponder... With a running time of a whopping 3 1/2 minutes, "Just Breathe" is the quickest lesson on mindful meditation you'll ever get, by the youngest teachers you'll ever have.
Talking Mental Health
Talking Mental Health is an animation designed to help begin conversations about mental health in the classroom and beyond. The animation and accompanying resources have been created by a team of animators, children, teachers and clinicians, and is being taught to children around the UK.
Harry Potter- Happiness & Motivation
"Soon we must all face the choice between what is right and what is easy." – Albus Dumbledore
Mental Health Awareness Week
Hosted by the Mental Health Foundation, Mental Health Awareness Week will take place from 18-24 May 2020. The theme is kindness.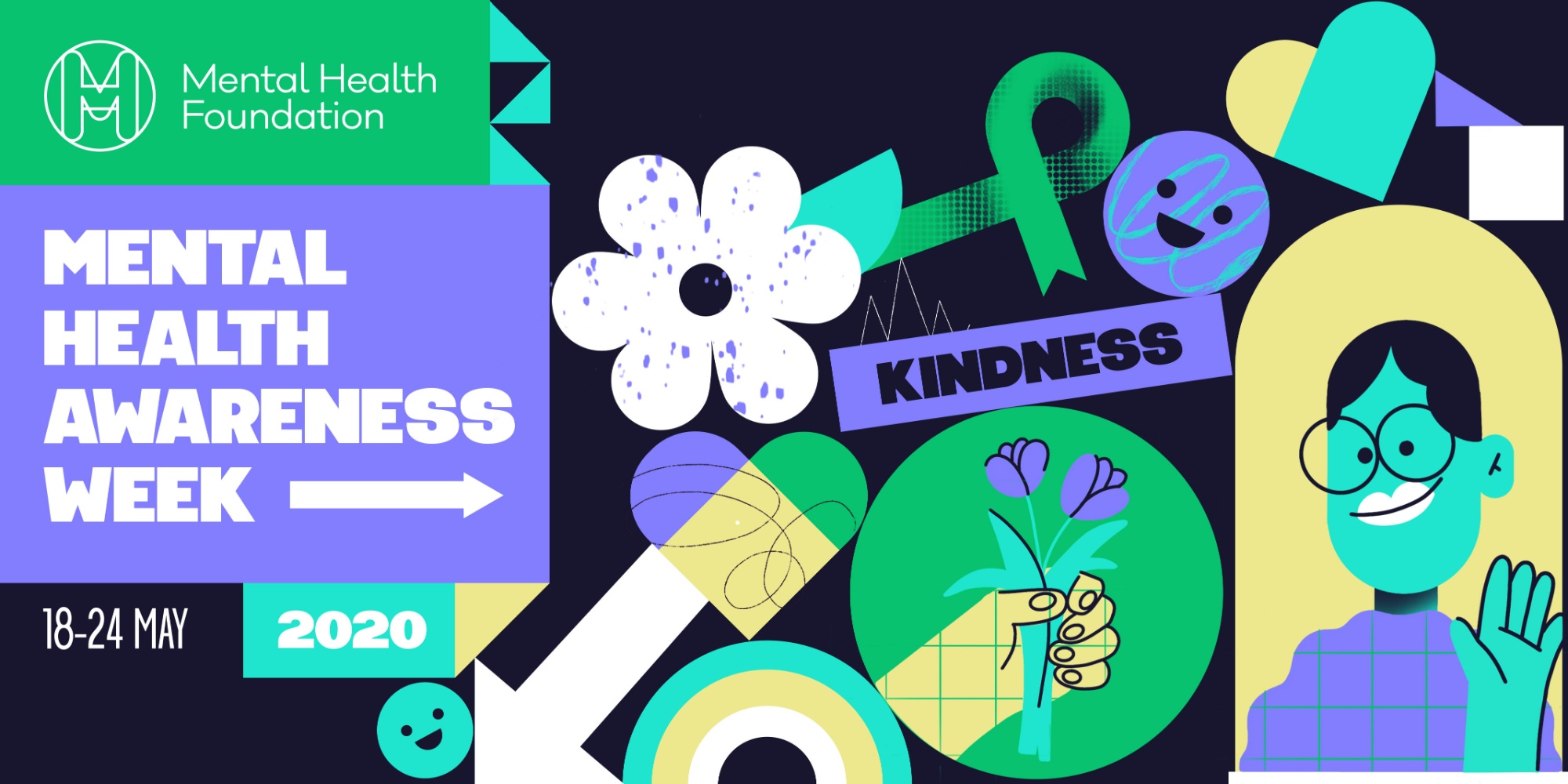 Mark Rowland, Chief Executive of the Mental Health Foundation, said: "Now more than ever, we need to re-discover kindness in our daily lives.
"We want to use Mental Health Awareness Week to celebrate the thousands of acts of kindness that are so important to our mental health. And we want to start a discussion on the kind of society we want to shape as we emerge from this pandemic. "
"Kindness unlocks our shared humanity and is central for our mental health. It has the potential to bring us together with benefits for everyone, particularly at times of great stress. "
Mr Belinfante's Top Tips
Mr Belinfante has shared some fab ideas for how you can raise awareness and promote good mental health.
Write a short message for a family member sharing just 1 positive thing that they have discovered about themselves
Share some stories with your teachers about what you found to be the most difficult part of lockdown, but more importantly how you got through the difficult situations. Some examples...

Did you have a discussion with someone to verbalize your situation
Did you express the difficulty through writing it down
Did you engage in something new or different to combat the difficulty

Have you started a new hobby as a coping strategy?
Have you done 1 thing you have never done before and found it to be a positive experience (and something they would do again)? eg. Bake a cake
Activities for children and young people
What is Kindness?
Think of a time when someone was kind to you
What did they do?
What were your thoughts?
How did you feel?

The Hand of Kindness
Draw an outline of your hand on a piece of paper. On each finger write or draw an idea of how you can be kind to other people

Spread a little Kindness
Draw a mind map of ideas about examples of kindness using words and pictures

Discovering Kindness
Look at news stories with examples of different acts of kindness including famous people who are known for their kindness

Reporting Kindness
Write a blog or record a vlog reflecting on acts of kindness that you have found out about

Logging your acts of kindness
Use the log sheets to record your acts of kindness during your time in isolation

Looking to the future
Think of ways we can continue to be kind to each other when the crisis is over. Write this as a poem or draw a poster