Computing
Introduction
Personal computers have become the most empowering tool ever created. They are used for communication, creativity and can be shaped by the user to whatever is their desired outcome. It is therefore essential that confident, creative and productive use of ICT becomes an essential part of life.
Modern society and ICT use are seamlessly integrated and it is important that our pupils are confident, creative and productive in its use. At the Nottingham Academy, we aim to ensure that all our pupils are equipped with the skills to enable them to effectively use ICT. We aim to teach pupils not just the skills essential for everyday life, but also how ICT can be used to collaborate and exchange information, access a range of information from a wide range of people, communities and cultures and to model situations and solve problems.
The study of ICT at Key Stage 4 and 5 can lead to a wide range of careers, such as:
Network Manager
Video Games Designer
Web Designer
Animator
Although there are a large number of careers that the study of ICT could lead to, it is estimated that by 2015, 90% of all jobs will require ICT skills.
Key Stage 3
Pupils follow a core programme of study for two hours a week in years 7, 8 and 9. During this time they experience a range of projects around a variety of contexts.
In Year 7, they will develop key skills in a range of office and media based packages, applying these skills to present work to a range of diverse audiences. Software used will range from Microsoft Office to Adobe Photoshop, Dreamweaver and Fireworks. At the end of the year, pupils are introduced to the concept of Control, with an opportunity to introduce aspects of programming.
In Years 8 and 9, pupils are introduced to programming code through Scratch, allowing them to create their own software and simplified games. They will also further develop their use of the industry standard Adobe Creative Suite, with the use of Flash to create animations and multimedia presentations, and the use of Photoshop and Flash to manipulate and create bitmap and vector images, for digital and print media.
The structure of Key Stage 3 will revolve around several projects per year. Each project will be assessed upon completion and will be graded based on a National Curriculum level.
Key Stage 4
In years 10 and 11, pupils build upon their work from KS3 and choose one of two options as detailed below.
GCSE ICT (Edexcel)

Unit 2: Using Digital Tools
This is a practical unit. Pupils broaden and enhance their ICT skills and capability. They work with a range of digital tools and techniques to produce effective ICT solutions in a range of contexts. Pupils learn to reflect critically on their own and others' use of ICT and to adopt safe, secure and responsible practice. They put into practice what they learned about digital technology in Unit 1.
Unit 1 Living in a Digital World
In this unit, pupils explore how digital technology impacts on the lives of individuals, organisations and society. Pupils learn about current and emerging digital technologies and the issues raised by their use in a range of contexts (learning and earning, leisure, shopping and money management, health and well-being, on the move). They develop awareness of the risks that are inherent in using ICT and the features of safe, secure and responsible practice.
BTEC Level 2 First Award in Information and Creative Technology (Edexcel)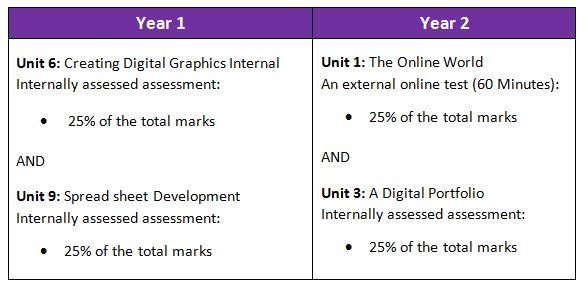 Unit 6: Creating Digital Graphics Internal
In this unit pupils will learn about the features of digital graphic products, design digital graphic products and create, test and review digital graphic products.
Unit 9: Spread sheet Development
In this unit pupils will learn about the features and uses of spreadsheets and the features available in spreadsheet software packages, they will design a spreadsheet, develop and test it and review the finished spreadsheet.
Unit 1: The Online World
In this unit pupils will learn about online services and online communication, investigate components of the internet and how digital devices exchange and store information and investigate issues with operating online.
Unit 3: A Digital Portfolio
In this unit In this unit pupils will learn to design a digital portfolio, create and test a digital portfolio and undertake a review of their finished portfolio.
Key Stage 5
Applied ICT GCE A-Level (OCR)
The aims of this course are to encourage candidates to:
Develop an understanding of the use of ICT in processing data in a variety of organisations;
Develop an understanding of the effects of the use of ICT on the data processing and communications systems within and between organisations and individuals;
Develop an understanding of the range of hardware and software tools that may be used to create an effective ICT system;
Develop an understanding of the role of business within the local, national and international community;
Acquire the skills necessary to tailor application software to meet the needs of given situations and users;
Develop skills of analysis and design, and be systematic in the production of solutions with testing, evaluation and appropriate documentation
Develop project and time management skills when producing solutions for a third party

Extra Curricular Opportunities
After school support end enrichment sessions are run weekly for KS3 and KS4 pupils.